Hi there,
I just got back from London, where I watched my sister run her eighth (!) marathon. In very Annie fashion, as soon as she finished she proceeded to thank everyone around her and ask if we needed anything. I was with my mom and my fairy godmother Lina, who were patient as I navigated us to spectating spots with varying success. It was a quick trip but felt luxurious to be on a solo ladies adventure (thanks to Rob for holding down the fort) in a city that I love. We paid our respects at Ottolenghi, had fancy martinis at Brown's, and moseyed around under a very British drizzle. After a month of what felt like never ending sickness, the trip — and being in a place so geographically and psychically far from home — was a very welcome change.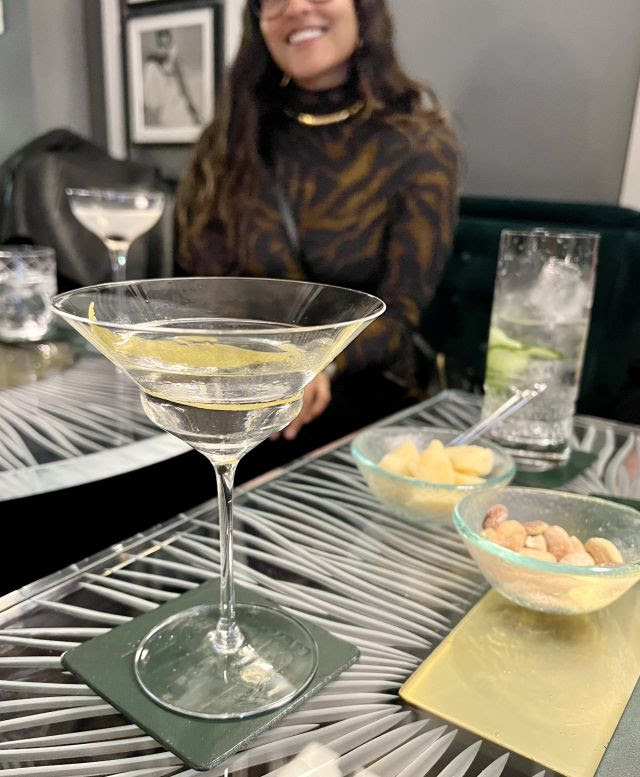 Here are some of the things I'm excited about right now:
Books worth the tears: I spent most of the plane ride home quietly sobbing through Ann Napolitano's Hello Beautiful, which I've heard described as "Little Women with basketball." It's about family, love, memories, and, yes, basketball. Coming off a sister trip, it hit me right in the heart. All Our Missing Hearts, on the other hand, is more of a gut punch. Celeste Ng's latest novel is about a half-Asian boy growing up in a dystopian America that feels uncomfortably close to home: Asian-Americans are surveilled and persecuted; books are banned; and children separated from their families. Heartbreaking but beautiful and hard to put down.

Rediscovering Ottolenghi: On our last day in London, we went to Ottolenghi Notting Hill shop for food gifts, then Nopi for dinner. Both made me want to pull out his cookbooks (we have them all, but my favorites are Plenty and Jerusalem) and buy a pile of eggplants. I'm planning to revisit old favorites while we wait for spring vegetables to finally appear: his classic roasted eggplant with yogurt and tahini; this more recent and relevatory (for the legume-obsessed) beans with dukkah; and these tasty and freezer-friendly turkey zucchini meatballs.

Bright and affordable spring picks: I'm a sucker for Target designer collaborations and I love their most recent slate, which includes RHODE, Fe Noel, and Agua Bendita. The pieces always sell out quickly but I've found that if you put on stock notifications, you can usually find what you want. I picked up this poppy red dress from RHODE and will wear it all spring.
Dreamy better-than-fair-trade chocolate: Bantu, a Kickstarter-funded chocolate brand, is aiming to create a de-commodified chocolate brand that is owned and operated (they grow and manufacture themselves – read their story here). The simple Noire version is stunningly good, with a creamy-delicate texture, and . They have limited distribution in the US (for now!) but you can order them through Gjusta and should follow them on IG to find out about new retail.

Developing quite the kid library: Lilly went to Maine for Spring Break and came home with a suitcase full of chapter books from her doting grandparents. She loves Dory Fantasmagory, and so do I, even though some of her schemes make me cringe a bit. We are also deep in The Okay Witch, a recommendation from my friend Elana and her daughter — it's a thoughtful and age-appropriate way to talk about differences and persecution (here, related to witches!). Also: talking cats. Also, I can't remember if I've mentioned it before but the Princess in Black series is very delightful and has great illustrations that keep Finn engaged as well – the latest one features a new Prince in Pink which both kids love. Finn's current favorites: Emma Straub's wonderful Very Good Hats and Tyler Feder's Bodies Are Cool. (Side note: I found this conversation between Virginia Sole-Smith and Dr. Becky about bodies and how we think and talk about weight, bodies, and size incredibly illuminating and helpful. Getting Sole-Smith's book next!)

Relearning how to "do" my hair: For the last six years, my version of "styling" my hair is to spray some texturizer and let it air dry. But with a spate of 40th birthdays to attend, as well as generally wanting to feel more put together, I decided to relearn how to curl my hair. It is tricky! Do not burn yourself! Luckily my favorite Brooklyn stylist, Sarah, suggested this simple and affordable curling iron (she especially likes it because it has temperature control and won't damage your hair) and told me that the messier, the better.

Drama-free kid games: Both Lilly and Finn like the idea of games (Go Fish, Connect Four) but not the idea of losing. I'm sure we are not alone, which is why I was excited to discover the spate of "cooperative" games on the market. We bought Ghost in the Attic on our last upstate trip and it was a huge hit (though Finn mostly liked the light-up ghost) with the kids and their cousins, and might dust off Forbidden Island (so fun, and I don't usually like games) to play this summer in Maine.

Last thing! I had fun picking out $1000 worth of wellness items for The Ness's Wellness Diaries. A few I'm particularly jazzed about: my new FEND helmet, which folds up and is a sunshine-y yellow; a skin smoothing body serum from OUI the People; and Supergut's prebiotic-loaded protein bars that actually taste great. If you're reading this before May 4, click here to enter to win your own $1000 spree.

That's all for now. Thanks for reading and see you next month!

Mollie